---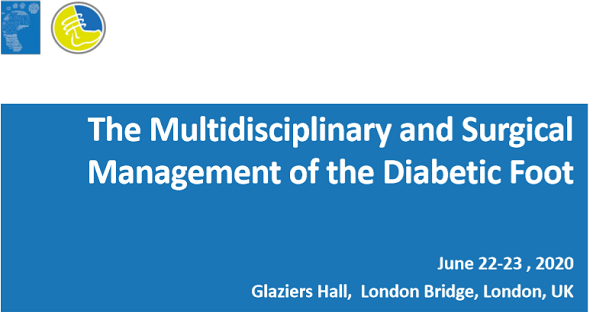 The Multidisciplinary & Surgical Management of the Diabetic Foot
June 22-23, 2020 in London, UK
A two-day focused symposium on the Multidisciplinary & Surgical Management of the Diabetic Foot organised by the King's Diabetes Foot Team.
Organised by Prof. Venu Kavarthapu (ADFS President elect), Prof. Michael Edmonds
Confirmed speakers: Jonathan Valabhji, Luca Dalla Paola (ADFS President), Nicolaas Schaper, Robert Frykberg (ADFS Scientific Officer), Alberto Piaggesi.
---

Publication by the Board of the Association of Diabetic Foot Surgeons
Frykberg, RG, Wukich, DK, Kavarthapu, V, Zgonis, T, Dalla Paola, L, Board of the Association of Diabetic Foot Surgeons. Surgery for the diabetic foot: A key component of care. Diabetes Metab Res Rev. 2019;e3251. https://doi.org/10.1002/dmrr.3251
---
Past news and events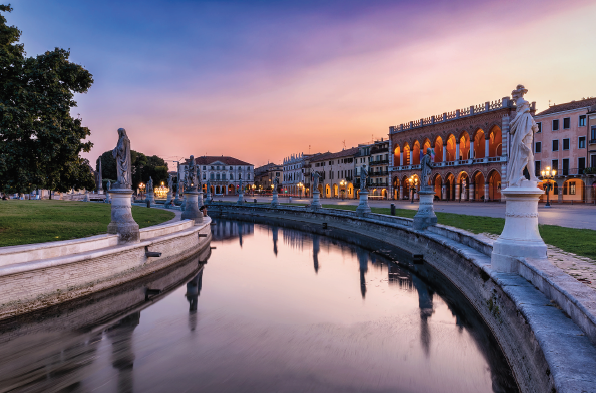 ADFS Cadaver Course 2019, 14-15 November
Anatomical and Surgical Dissection of the Foot - The Reconstruction of the Diabetic Foot
The Association of Diabetic Foot Surgeons (ADFS) is organising this year a cadaver course in Padova (Italy) in cooperation with the Plastic Surgery Department and Human Anatomy Institute of the Padova University School of Medicine.
Course benefits
Renowned teaching faculty
A comprehensive introduction to the reconstructive approach of the diabetic foot
True hands-on opportunity to practice
CME Credits. An application will be made to the UEMS-EACCME® for CME accreditation of this course
---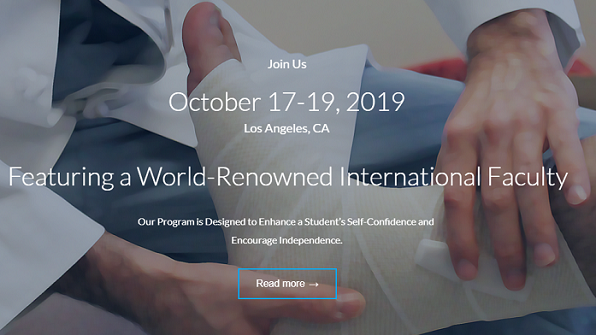 19th edition of the Diabetic Foot Global Conference (DFCon19) on October 17-19, 2019
The 19th edition of the interdisciplinary Diabetic Foot Global Conference (DFCon19) is the premier international, interdisciplinary diabetic foot conference in North America. Didactic talks, panel discussions, Q&A sessions, speacilty symposia and workshops will delve into diagnostic and interventional strategies for diabetic foot ulcers and amputation prevention.
ADFS members will get a special discount of 10% for their registration to DF Con19. The conference will take place at the Hilton Los Angeles/University City for DFCon19 on October 17-19, 2019.
For more information about DFCon19, please visit this website.
Write to ADFS Secretariat, if you want to know more about the registration discount.
---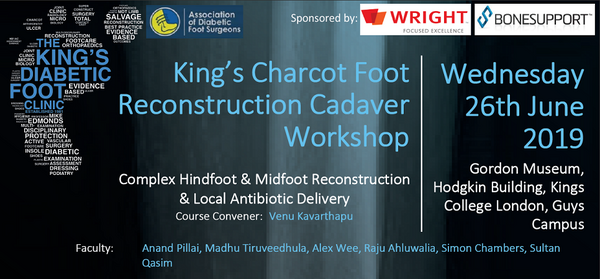 King's Charcot Foot Reconstruction Cadaver Workshop in London
ADFS board member Venu Kavarthapu is organizing a cadaver course on 26th June 2019 devoted to Complex Hindfoot & Midfoot Reconstruction & Local Antibiotic Delivery. The course will take place at the Gordon Museum, Hodgkin Building, Kings College London. For more details about the program of the course and registration, please see the flyer below.
---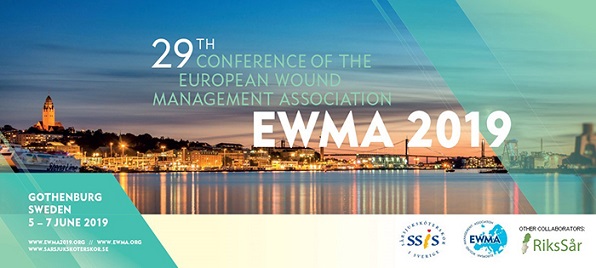 ADFS guest session at the EWMA 2019 Conference in Gothenburg
Time: 6 June, 17:15-18:30
Venue: Swedish Exhibition & Congress Centre & Gothis Towers, Gothenburg, Sweden
The role of multidisciplinary team and the organisation

Chairs: Luca Dalla Paola and Alberto Piagessi
"General overview of classification and history of DF surgery", Robert Frykberg
"Surgery in treatment of deformities & surgical offloading", Thomas Zgonis
"Surgical approach to osteomyelitis", Armin Koller
"Technical aspects/overview of approach to the Charcot foot", Venu Kavarthapu
Learn more about the conference and how to register for the conference.
---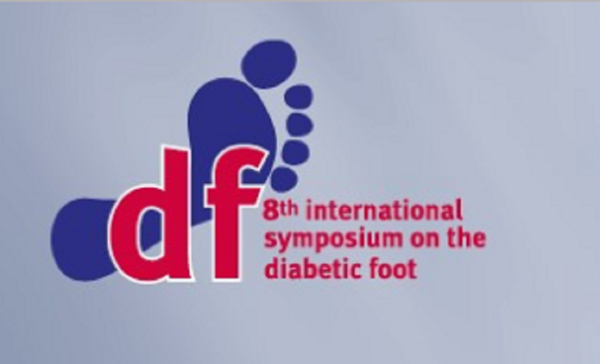 Two ADFS workshops and two ADFS symposia during ISDF 2019
On the 8th International Symposium on the Diabetic Foot (ISDF 2019), ADFS Board members will host two workshops and two symposia.
Symposium: Preventative and Curative Surgery, 22 May, 15:45-17:45
Symposium: Amputation, 23 May, 15:45-17:45
Workshop: Treatment of infection and osteomyelitis, 23 May, 14:01-15:15
Workshop: Surgical Managment of Charcot Foot, 23 May, 14:01-15:15
Learn more
---